NORMALIZER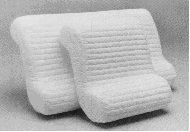 30 DAY MONEY BACK GUARANTEE
If you are not fully satisfied with any NORMALIZER pillow or other product, simply return it for a full refund.
NO QUESTIONS ASKED WARRANTY
There is further assurance with our No Question Asked NORMALIZER one-year warranty. If any NORMALIZER cover or foam pillow form is found to be defective within one year of purchase, we will provide a free replacement immediately. No Questions Asked.